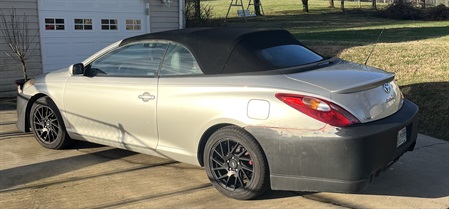 For Sale >
Cars
> Toyota Cars
Solara Convertible 2006
| | |
| --- | --- |
| Posted : | 2/28/2023 |
| Modified : | 3/28/2023 |
| Seller : | U834330 |
| Phone : | (423) 863-9458 |
| Views : | 384 |
| Price : | $4,900.00 |
---
Email Poster About This Ad
130K miles.
Garage kept.
Excellent running condition.
Was in the middle of modifying the bumpers with the Camry Sport bumpers before daughter got sick.
You get to choose to paint all black or match factory paint. Quotes to paint bumpers only have been $6-800.
Has ($1800 in rims) and Yokohamas.
Convertible top is electric.
Serious inquires only. Bots will be ignored